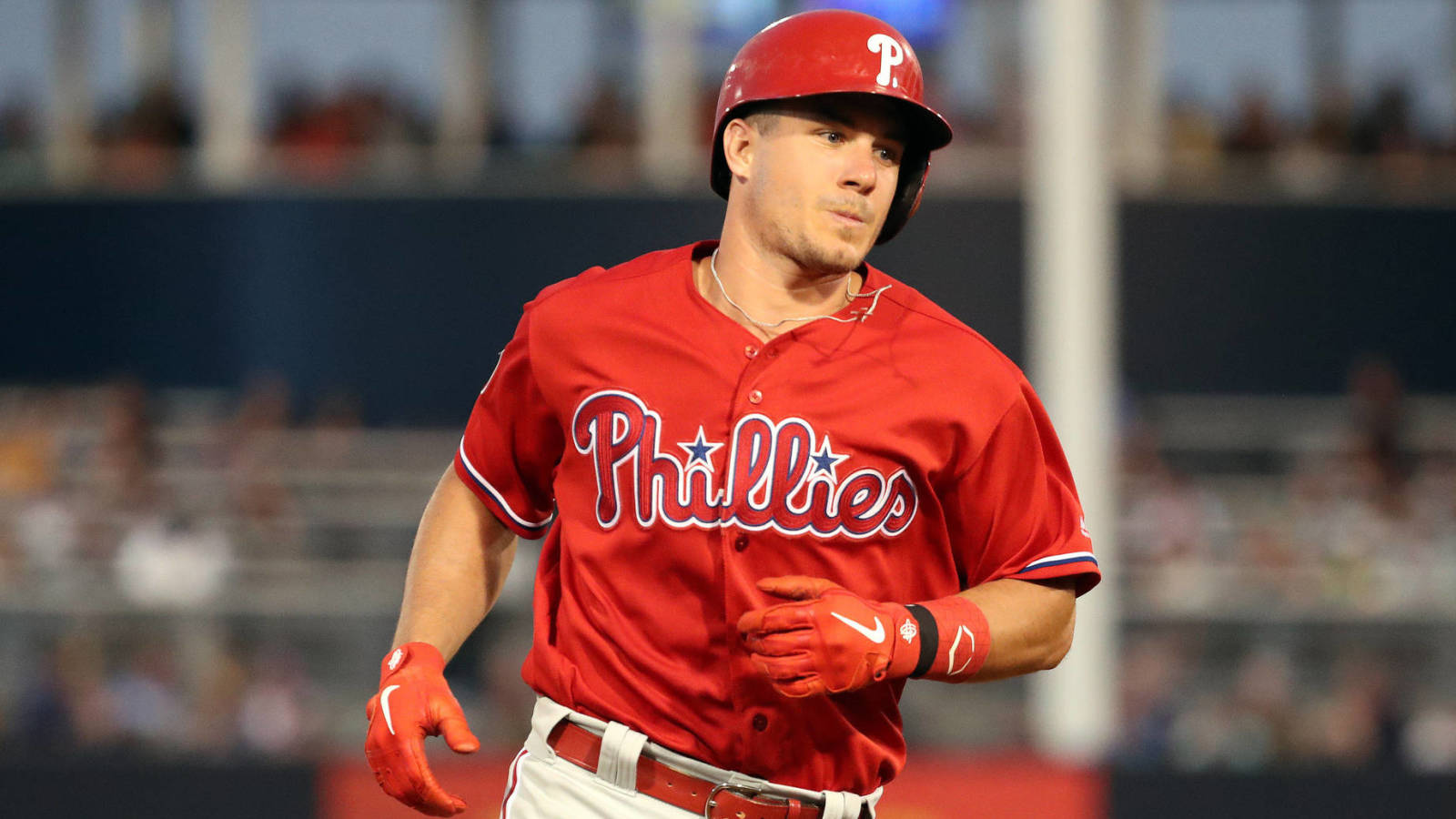 The Phillies haven't yet broached the subject of a contract extension for catcher J.T. Realmuto or first baseman Rhys Hoskins, the two players told reporters (including Philly.com's Scott Lauber and Jim Salisbury of NBC Sports Philadelphia).
Realmuto and Hoskins each expressed interest in remaining with the Phillies over the long term, and neither seemed perturbed by a lack of negotiations.
Realmuto can become a free agent after the 2020 season, and despite mutual interest in an extension, Lauber writes "neither side feels urgency to rush into anything" since Realmuto just joined the Phillies. It stands to reason the Phils will wait until the winter to delve into contract talks with the catcher. Of course, another All-Star-caliber season from Realmuto will only raise his asking price.
There's even less of a rush to extend Hoskins, as the slugging first baseman is under team control through the 2023 season and isn't even arbitration eligible until the 2020-21 offseason.
Looming over this discussion, of course, is the state of free agency. The past two offseasons of slowed activity have resulted in an incredible number of contract extensions signed over the past two months. The Phillies have already been a part of that action, inking Aaron Nola to a four-year extension worth $45M in guaranteed money. The extension flurry has seen for established stars and younger, pre-arb players taking a payday now rather than test an increasingly unfriendly free-agent market to veteran players.
Realmuto will turn 30 in March 2021, while Hoskins will turn 31 prior to the 2024 season. In Hoskins' case, he stands to make some solid money during his arbitration years if he continues to hit, as the arbitration process rewards traditional counting stats such as home runs and RBI. A pricey multi-year deal, however, could be harder to attain unless the next collective bargaining agreement between MLB and the players' union (the current deal expires in December 2021) changes the free- agent climate.
"I think all of us players have noticed (what's happened in free agency)," Hoskins said. "Obviously we hope stuff like that flips by the time that we get there. I don't know if it will ever get back to where it was, but hopefully it starts trending in the opposite direction of where it is right now. I think a lot of those questions are going to be answered after (2021)."
According to Salisbury, the Phillies previously tried to extend Hoskins prior to the 2017 season, before he had even made his major-league debut. Philadelphia used a similar approach last year with another top prospect, infielder Scott Kingery, signing Kingery to a six-year, $24M deal that gave the Phils club options over three of Kingery's free-agent years.
Hoskins' camp declined those earlier offers, though Hoskins has since changed representation to the Boras Corporation. As much as Scott Boras is known for taking his clients into the open market, Hoskins reiterated his agent is willing to negotiate extensions if they make sense for the player. It should be noted that Boras has a number of noteworthy extensions on his record, including Xander Bogaerts' new pact with the Red Sox.

Published at Sat, 13 Apr 2019 15:50:26 +0000Source: https://www.yardbarker.com/mlb/articles/phillies_have_yet_to_discuss_extensions_for_realmuto_hoskins/s1_13237_28866848.